Meetings in the Allgäu: Our facilities
7 rooms for your conferences & events
For meetings in the Allgäu and for conferences, 7 rooms drenched with sunlight and equipped with modern technology ranging from 40 to 124 square metres are available to you.
They provide row seating for up to 100 guests. For conferences, events, incentives, presentations, galas, and other functions, two luxurious and generously sized rooms are suitable with a capacity of up to 100 persons in each case.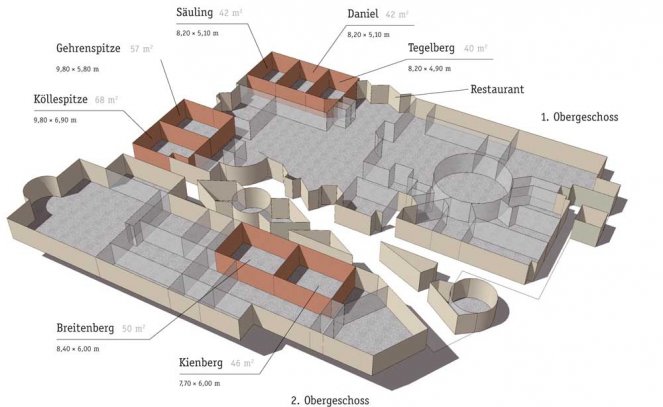 Standard technology for a meeting in the Allgäu is of course included in the rental rate for the room (half day €60, whole day €120). We would be happy to discuss with you all of your wishes for your event at Luitpoldpark Hotel.
Meetings in the Allgäu: Space for communication
The reception area with an information counter and Internet corner is ideal for an individual hospitality desk, where you can welcome your guests to your meeting in the Allgäu, and where they'll have a place to go at any time if they have questions. Even if you are planning on a small reception desk, we will gladly organise this in the reception area.
Meetings in the Allgäu at Luitpoldpark Hotel give you space for communication during breaks in the conference. In our large courtyard garden in the middle of the hotel complex, swap ideas with your seminar participants during conference breaks in the fresh mountain air under white and blue skies.
Our hotel rotunda, the centre of our conference hotel in the Allgäu, also offers you an extravagant communication area. The railings with plants all around and over 4 floors, together with the vast, round glass roof with a direct view to the Bavarian sky, form an intriguing setting for interesting conversations during your meeting in the Allgäu:
Meetings in the Allgäu: Equipment & technology
For your event at our conference hotel in the Allgäu, we will provide everything you need for presenting, working constructively, and gathering ideas.
Your standard equipment for meetings in the Allgäu:
Screen
Flip chart
Overhead projector
Lectern
Stereo equipment
Desk pad
Writing pad
Pencils
Other technology and equipment (fee-based):
Video projector €60 / day
Moderator's case €20
Loudspeaker system with hand-held microphone €20 / day
Television cart €20 / day
Video recorder €10 / day
DVD player €20 / day
Laser pointer €6 / day
Additional flip chart paper €10 per pad
Other technology lent and installed by third-party companies is recharged directly, e.g., a microphone system with a headset or with a clip-on microphone for your meeting in the Allgäu.
Hotel Video
Current offers
from 

€ 149,--

 

for 2 Guests per night

(Hopfensee)

from 

€ 174,50

 

Price per person

(Schwansee)

from 

€ 159,--

 

Price per person

(Hopfensee)

from 

€ 189,--

 

Price per person

(Alatsee)

from 

€ 144,50

 

Price per person

(Alatsee)